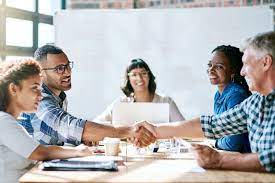 Blog | 2022-07-03
What to consider when partnering with a debt collection agency?
As you know, cash is king and no business can afford not to collect on invoices, accounts or debts that have fallen overdue. Whilst it may not be glamorous, collecting money that is owed represents a vital activity for any business and should not be overlooked. For this reason, it's important to consider your options when looking to partner with a debt collection agent to ensure you're partnering with an organisation that fits your needs and is aligned to your ethical standards.
Partnering with a debt collection agent saves time, improves your bottom line and ultimately takes away an extremely stressful and time consuming function, allowing you to focus on what is important and ultimately where your strengths lay.
A good debt collection partner has experience, access to an array of debt collection tools (many of which are proprietary) and uses advanced techniques to collect your debt, all of which combine for a faster, more efficient and far more effective approach towards collecting your overdue invoices.
But how to choose the right agent? Well first, you need to look at it like a partnership rather than a service provider. A debt collection agent is in many ways an extension of your organisation as opposed to a third party vendor. A collection agent interacts with your valued customers, so you need to ensure that the agent you choose is not going to damage that customer relationship in anyway. Look for an agent with a proven track record of compliance, it's easy to find collection companies that pride themselves on compliance customer satisfaction. Financial Counselling Australia (FCA) releases regular data and feedback on debt collectors as part of their annual Rank the Banks report.
Look for an agent that has a proven record of accomplishment and likely already partners with a number of reputable organizations, especially within your industry or economic sector. Understanding an industry as well as the customer base that makes up the industry is a key part of the debt collection process.
It's also important to think about when you want to refer your debt, i.e. how many days past the due date should you seek external assistance? Ultimately this decision is up to you and dependent on the amount of effort you want to put in before referring to an external agent. However, it is important to note that the longer you wait, statistically speaking the less chance of successfully recovering all of the money owed. We recommend referring overdue invoices between 7 and 14 days past due to ensure you're able to take maximum advantage of the benefit a debt collection agent can offer
When looking for the right collection agent, look for an agent that is happy to walk you through their debt collection processes and one that has a plan as to exactly how they will recover your funds. Beware of agents who just cycle your accounts through electronic diallers, there is much more to debt collection than this and you want an agent that has proven collection strategies.
Finally, it is important to beware of hidden costs when engaging with an external debt collection agent. Many agents will claim no collection, no fee, however many will also have hidden costs for ancillary services, letters or processes. Ensure that you are partnering with an agent that has its remuneration structure aligned to the goals of your business.
Latest Posts